Gift idea: a classic drive for a friend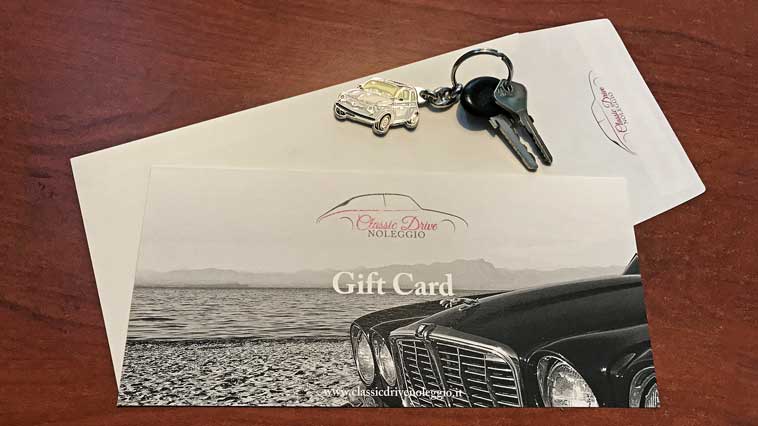 Do you know that the most appreciated gifts are the experiences to do with friends?
Think about it!
One of the best things you can receive is the opportunity to share time with your beloved ones. And if that time is spent with others enjoying your passions, success is certainly guaranteed. When you think of the perfect gift for your partner, a friend or even a customer, you often simply look for something material, with the risk that they may not like it and might not be appreciated.
Have you ever thought of giving an experience?
My name is Davide,
and I founded Classic Drive Car Hire to fulfil the wishes of those who dream of driving a vintage collector's car. If you are reading this page, you and I have the same goal: to make people live strong and unforgettable emotions. Buying the Gift Card for a classic car hire will surely make for an original, unexpected and memorable gift.
You can choose between these cars of the seventies and eighties:
With a gift idea like this, you will not only give them the pleasure of driving a vintage car, but also the chance to live the experience together and to create an unforgettable memory.
Gift Idea
Who would like a gift certificate for a vintage car hire?
The friend, lover of the vintage world and engines: by giving them the chance to drive a vintage car, you will make them shudder with emotion.

Your partner, lover of the seventies and eighties: you will give them the opportunity to have for a "retro" journey and to taste the uniqueness of an experience in a different time

The sophisticated customer, who comes to visit you once a year: surprise them with a vintage car. Take them to taste the typical dishes of the territory on a vintage vehicle, to show them how important their presence is.

Friends who are getting married will never have dreamed of receiving a car ride as a gift: with the Classic Drive Rental Gift Card, you can hire the car, but the pleasure of driving is theirs.

Your parents who are celebrating their wedding anniversary: have you ever thought of reviving the old days on a car of that time? They will certainly appreciate the originality of the gift, but above all, you will make them live the emotions of those days.

Engaged couples who want to experience Verona in Love: get to the city of love in the vehicle you want, and then you proceed to the hinterland of Romeo and Juliet in a vintage car to make your stay unique.

Market-lovers couples: join them on a vintage car. You will create an exemplary atmosphere around you, typical of the traditions and history of a country.
Write down my number, come and see me, I will be able to recommend the right car for the right occasion, for the perfect gift, but above all to let you experience unique emotions.